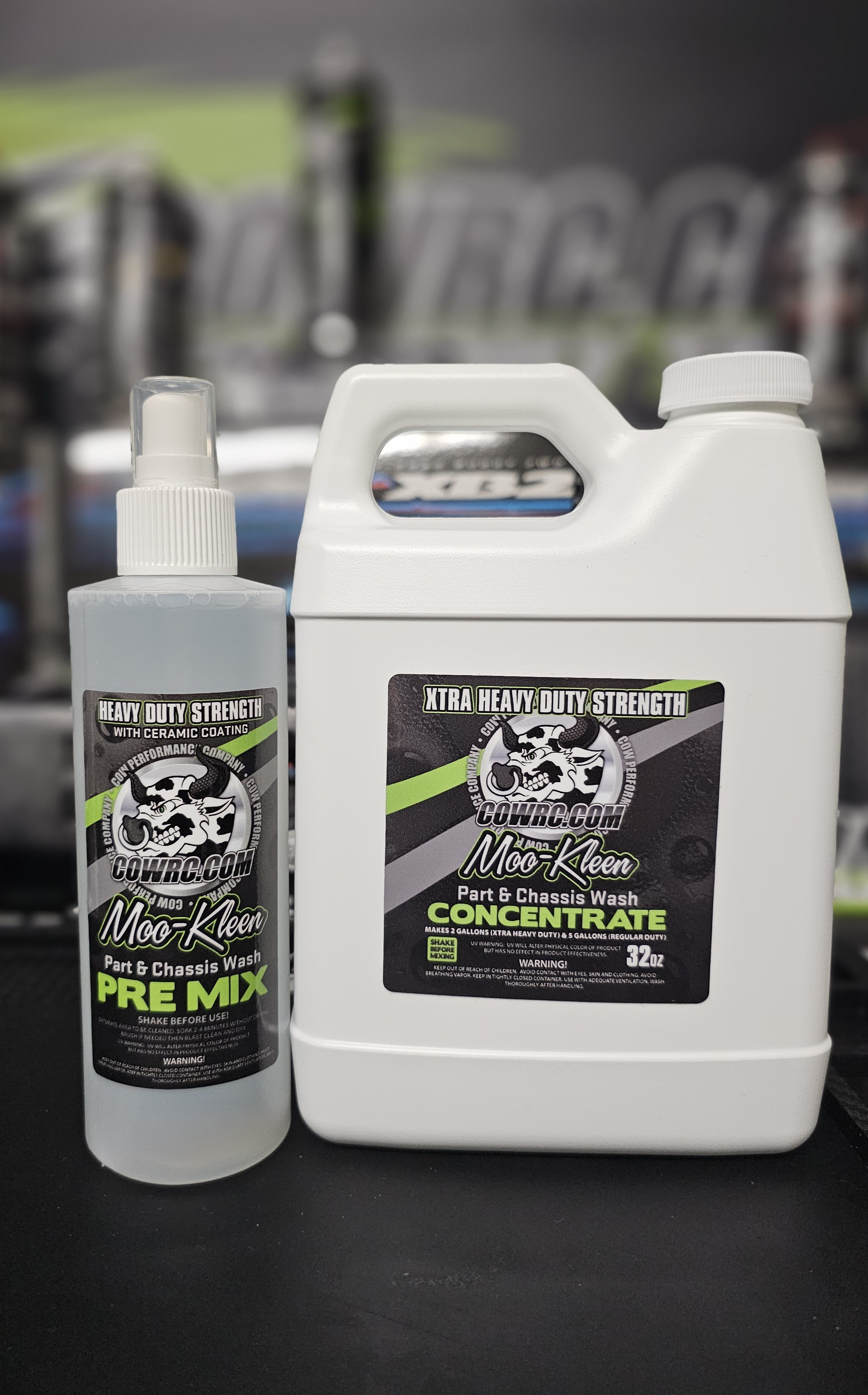 When you thought it couldn't get any better!
CowRC's Part And Chassis Wash is no stranger to the RC maintenance industry. It has been around for years putting dirt and grime to bed. For those of you who are familiar with the product, I'm sure you can attest to how effective it is. This new formula has the same non corrosive cleaning properties, which is rubber and plastic friendly, now added with ceramic coating. What this means for you? Simply put, added protection. Part And Chassis Wash is specifically designed for RC applications unlike other cleaning products that are commonly used by RC enthusiasts. The formula is designed NOT to extract the oils and minerals in your RC plastics and rubber seals while still getting your vehicle clean as a whistle. It actually acts like a conditioner, it doing so, your plastics and seals will maintain their integrity which equals a more consistent and longer lifespan. This product has been used on shock cleanup, bearings, chassis, A arms, and more.
Some bearing companies recommend non corrosive cleaners, look no further, this absolutely fits the bill. This is just one of many applications.
The ceramic coating is next level, and you will notice it immediately on your fingers, no gimmicks here.
The Part And Chassis Wash pairs well with the CowRC ultrasonic cleaner for your shocks and smaller parts.
The Wash comes in a 8 oz. Pre Mix bottle, 16 oz. or 32 oz. concentrate bottle. The 16 oz bottle makes 2 gallons Xtra heavy duty mix or 5 gallon regular mix. The 32 oz. is doubled with 4 gallons Xtra heavy duty and 10 regular duty.
Don't get lost in the dirt with your average cleaner. Clear the way with Part And Chassis Wash with added ceramic coating. See ya at the track.
This product can be purchased at CowRC.com. Use coupon code "PROTIP15" at checkout for 15 percent off your order.